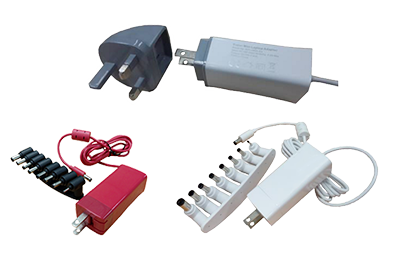 Download Data Sheet
WMAPD65xy
The WMAPD65xy model of wall mount power supplies offers up to 65 watts of output power in a versatile and compact 2.93" x 1.34" x 1.1" package. This is a single output model with a wide rated input voltage of 100~240VAC and high average efficiency of 88%. Several options are available for this model including case color, output tip, and plug type. This model has short circuit and over current protection, is DoE Level VI compliant, and has UL60950, FCC, EN60950, and IEC60950 safety approvals. Please contact factory for more information.
• 100~240VAC Rated Input Voltage Range
• High Average Efficiency of 88%
• DoE Level VI Compliant
• Several Output Tips Available; Compatible with Standard Plug
• Several Case Colors Available
• Interchangeable or Fold-able Plug Available
• Short Circuit, Over Load and Over Current Protection
• Drop, Hi-Pot, and Burned-In Tested
• UL60950, FCC, EN60950, and IEC60950 Safety Approvals
Model
Number
Input
Voltage
Output
Voltage
Output
Current
Output
Power (W)
No.
Outputs
Case
WMAPD65xy

Input Voltage:

90~264

Output Voltage:

19

Output Current:

3.42A

Output Power (W):

65

No. Outputs:

S

Case:

Wall Mount
Get a Quote
Specification
Value
Input
Input Voltage (Nominal):
100/240
Input Voltage Range:
90~264
Input Frequency:
47 to 63Hz
Output
Output Voltage:
19
Output Current:
3.42A
Output Power (Watts):
65
Short Circuit Protection:
Yes
General
Efficiency:
88% Min.
Environmental
Operating Temperature:
0 to 40ºC
Storage Temperature:
-40 to 85ºC
Physical
Weight:
-
Dimensions:
2.93in x 1.34in x 1.1in (74.4mm x 39.95mm x 27.95mm)
Notes & safety
Notes:
NOTES
1. "X" in model number indicates plug type. "X" can either be "U" for US plug, "E" for EU interchangeable plug, or "K" for UK interchangeable plug.
"Y" in model number indicates case color. "Y" can either be "W" for white, "BK" for black, "R" for red, or "BL" for blue.
2. Under nominal voltage and nominal load, the ripple & noise are measured with max. bandwidth of 20MHz and parallel 10uF electrolysis capacitor and 0.1uF ceramic capacitor crossed connect at testing point.
3. This product is Listed to applicable standards and requirements by UL.
*Due to advances in technology, specifications subject to change without notice.

Safety Approvals:
UL/CUL UL60950, FCC, CE EN60950, CB IEC60950
Energy Star Compliance:
Level VI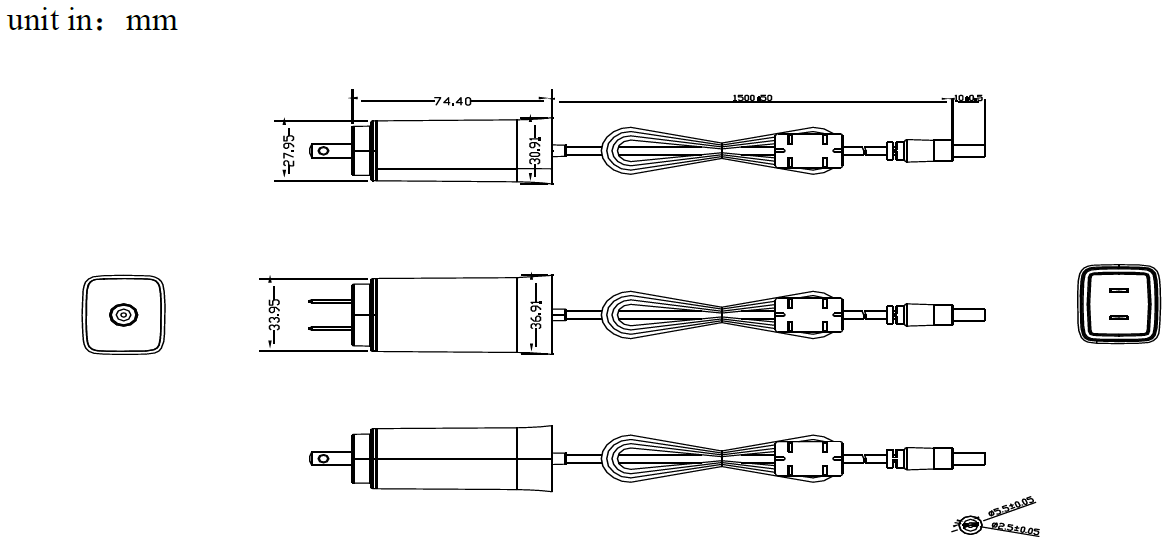 Get a Quote
Request information for from Wall Industries.
Custom Solutions
Wall Industries, Inc. offers fully custom power design capabilities. Our team of electrical and mechanical power design engineers will utilize proven design topologies and concepts to create a solution to your power requirements. If you don't have a specification, Wall's engineering team will assist you in determining what your requirements are and how best to provide a solution.
Learn More