Wall Industries has released the PSHDN240 series of highly efficient DIN Rail power supplies that support parallel use and current sharing
Wall Industries Inc. has released the PSHDN240 series of AC/DC DIN Rail power supplies. This series offers 240 watts of power in a 4.92in x 5.12in x 1.97in DIN rail package. It consists of single output models ranging from 24-48VDC with an input range of 85-277VAC/120-390VDC.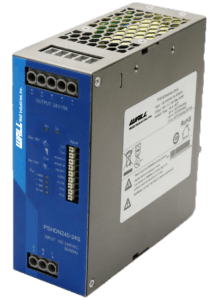 Features of the PSHDN240 series include high efficiency and reliability, active PFC, and up to 200% (PN) dynamic power for 5s. This series supports DC OK, AC OK, remote control function, 5+1 bus high precision parallel current sharing, and ModBus communication protocol. It also has safety according to ATEX, IECEx, ANSI/ISA 71.04-2013 G3, IEC/EN/UL/BS EN62368, GB4943, IEC/EN/UL61010, EN61558, EN62477, IEC60079, GB3836, and NB/T31017. For full details see the PSHDN240 series page.
Image

Model Number
Input
Output Voltage
Output Current
Efficiency

Output Power

PSHDN240-24S

85~277VAC
(120~390VDC)
24VDC
10A
94.5%

240W

PSHDN240-48S

48VDC
5A

95%
To get in touch with the Wall team about any of the new PSHDN240 series, you can contact us here.