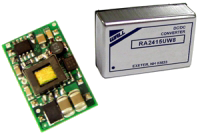 Download Data Sheet
RA
The RA series of DC/DC converters provides up to 8 watts of output power and has a wide input voltage range with single or dual outputs in a DIP package. All models feature 1000VDC isolation, high efficiency, fast transient response, and over current and short circuit protection. All models are 100% burn-in tested and are manufactured in the United States.
• Wide Input Range
• Fast Transient Response
• Low Output Ripple
• Fixed Switching Frequency
• Output Over Current Protection
• Output Short Circuit Protection
• 1000 VDC Isolation
• Five-Sided Shielding
• ISO9001 Compliant
• IPC-A-610 Compliant
• J-STD-001 Compliant
• Conformal Coat IAW IPC-CC-830, Type UR
• GEIA-STD-0005-2, Level 2B Tin Whisker Compliant
• 100% Burn In
• Single and Dual Output
• Manufactured in the United States
Model
Number
Input
Voltage
Output
Voltage
Output
Current
Output
Power (W)
No.
Outputs
Case
RA4805UW5

Input Voltage:

36

Output Voltage:

5

Output Current:

1A

Output Power (W):

5

No. Outputs:

S

Case:

Through Hole
Get a Quote
RA2405DUW8

Input Voltage:

24

Output Voltage:

5, -5

Output Current:

1.6A

Output Power (W):

8

No. Outputs:

D

Case:

Through Hole
Get a Quote
RA2415UW8

Input Voltage:

24

Output Voltage:

15

Output Current:

533mA

Output Power (W):

8

No. Outputs:

S

Case:

Through Hole
Get a Quote
Specification
Value
Input
Input Voltage (Nominal):
24, 36
Input Voltage Range:
18~75, 9~36
Remote ON/OFF:
Yes
OVLO:
See Specs
Input Frequency:
0 Hz
Output
Output Voltage:
5, 15, ±5
Output Current:
1.6A, 533mA, 1A
Output Power (Watts):
5, 8
Short Circuit Protection:
Hiccup Mode
General
Efficiency:
Up to 86%
Isolation:
1000VDC
Environmental
Operating Temperature:
See Specs
Storage Temperature:
-55 to 125°C
Physical
Weight:
1 oz.
Dimensions:
1.25in. × 0.8in. × 0.4in.
Shielding:
Five Sided
Notes & safety
Notes:
1. For more detailed information please see the tehnical datasheet which is located next to the model number.
Due to advances in technology, specifications are subject to change without notice.
2. The mechanical drawing and derating curve are of the RA2405DUW8 model. Please see the technical datasheet of the desired model for more information.
Safety Approvals:
ISO9001 Compliant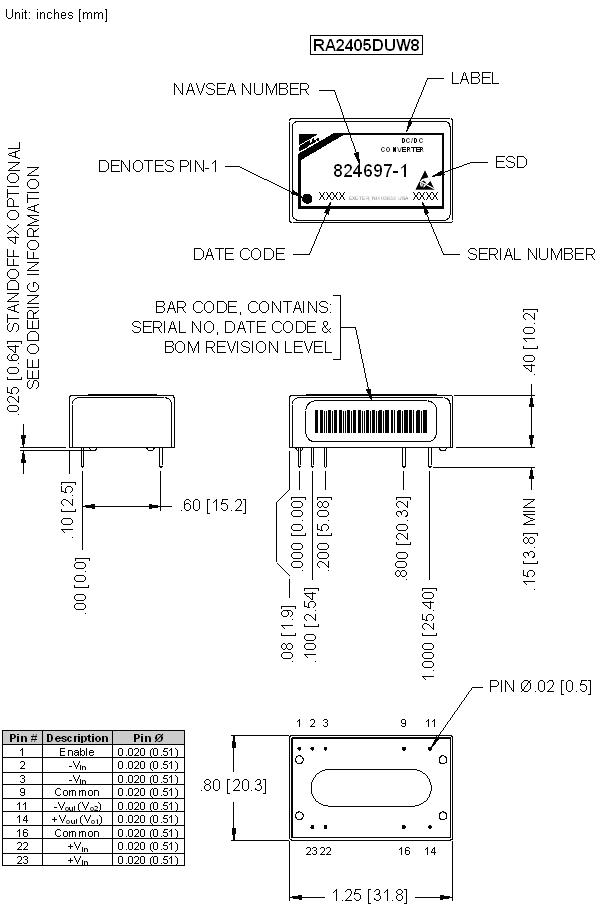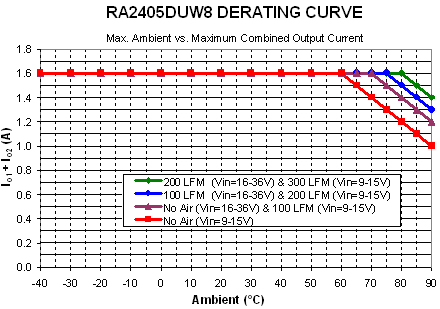 Get a Quote
Request information for from Wall Industries.
Custom Solutions
Wall Industries, Inc. offers fully custom power design capabilities. Our team of electrical and mechanical power design engineers will utilize proven design topologies and concepts to create a solution to your power requirements. If you don't have a specification, Wall's engineering team will assist you in determining what your requirements are and how best to provide a solution.
Learn More