New Bi-Directional DC/DC: The DCCE24S2428-1000
For years, the way we have stored energy has seemed like a one way street. Systems are typically connected to a battery or super capacitors in order to charge them. The charge is then held until it is needed and the modules will drain as they are used. There are usually separate charge and discharge paths that work independently from each other. Unfortunately, this method allows the cells in the battery or super capacitor to have uneven voltages. This results in uneven charging, which ultimately reduces the lifespan and storage capacity of the storage module to decline. Bi-directional converters help with all of these problems.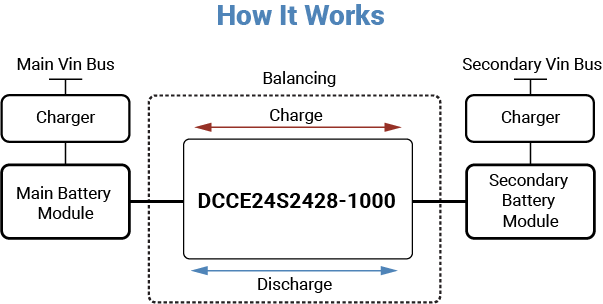 Wall Industries has recently introduced a new bi-directional converter, the DCCE24S2428-1000 model. This converter offers a way to balance the power in a system with charge and discharge systems that work in two directions. This means that the main battery can charge the auxiliary battery with constant current first and constant voltage later, and vice versa. In turn, the battery module that has a higher voltage can share excess voltage with another module that has a lower voltage. Bi-directional converters allow for balance within the modules while giving power systems a longer overall lifespan. For more information see the DCCE24S2428-1000 series page.
Applications: