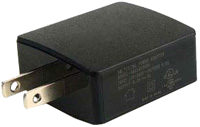 Download Data Sheet
WMNA10
The WMNA10 series of Class II wall mount AC/DC power supplies delivers up to 10.5 Watts of output power in a 1.93" x 1.79" x 0.87" package. This series has single output models with an input voltage range of 90-264VAC. These supplies are protected against over voltage, over current, and short circuit conditions. The WMNA10 series is RoHS, CEC, and Energy Star Level V compliant and has UL 60950 FCC Part 15 safety approvals. These supplies are also available in a variety of Pantone® colors.
• Class II
• US Type AC Plug
• USB Type Outlet Connector
• RoHS Compliant
• 10.5 Watts Output Power
• 5 VDC Single Outputs
• Very Low Standby Power
• 90-264VAC Input Voltage Range
• 0°C to +40° Operating Temperature Range
• Over Voltage, Over Current, & Short Circuit Protection
• MTBF: 50,000 Hours
• UL60950 FCC Part 15 Safety Approvals
• Several Pantone® Case Colors Available
Model
Number
Input
Voltage
Output
Voltage
Output
Current
Output
Power (W)
No.
Outputs
Case
WMNA1105-U

Input Voltage:

90~264

Output Voltage:

5

Output Current:

2100mA

Output Power (W):

10.5

No. Outputs:

S

Case:

Wall Mount
Get a Quote
Specification
Value
Input
Input Voltage (Nominal):
115/230
Input Voltage Range:
90~264
Input Frequency:
47-63Hz
Output
Output Voltage:
5
Voltage Accuracy:
±5%
Output Current:
2100mA
Output Power (Watts):
10.5
Short Circuit Protection:
Output shut-down; Automatic Recovery
Over Voltage Protection:
Zener Diode Clamp
General
Isolation:
3000VAC
Environmental
Operating Temperature:
0 to 40°C
Storage Temperature:
-10 to 70°C
Physical
Weight:
1.76 oz
Dimensions:
1.93" x 1.79" x 0.87" (49.0 x 45.5 x 22.0 mm)
Notes & safety
Notes:
1. The "x" in the model number represents the Pantone® case color. We offer several Pantone® case colors so please call factory if desired color is not shown.
2. Ripple and noise is measured at 20MHz limited bandwidth with 0.1µF ceramic and 10µF electrolytic capacitors across the output
Due to advances in technology, specifications subject to change without notice.
Safety Approvals:
UL 60950
RoHS Compliance:
Yes
Energy Star Compliance:
Level VI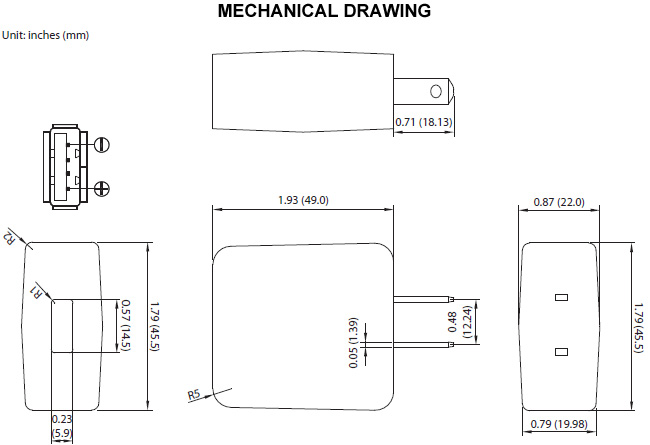 Get a Quote
Request information for from Wall Industries.
Custom Solutions
Wall Industries, Inc. offers fully custom power design capabilities. Our team of electrical and mechanical power design engineers will utilize proven design topologies and concepts to create a solution to your power requirements. If you don't have a specification, Wall's engineering team will assist you in determining what your requirements are and how best to provide a solution.
Learn More