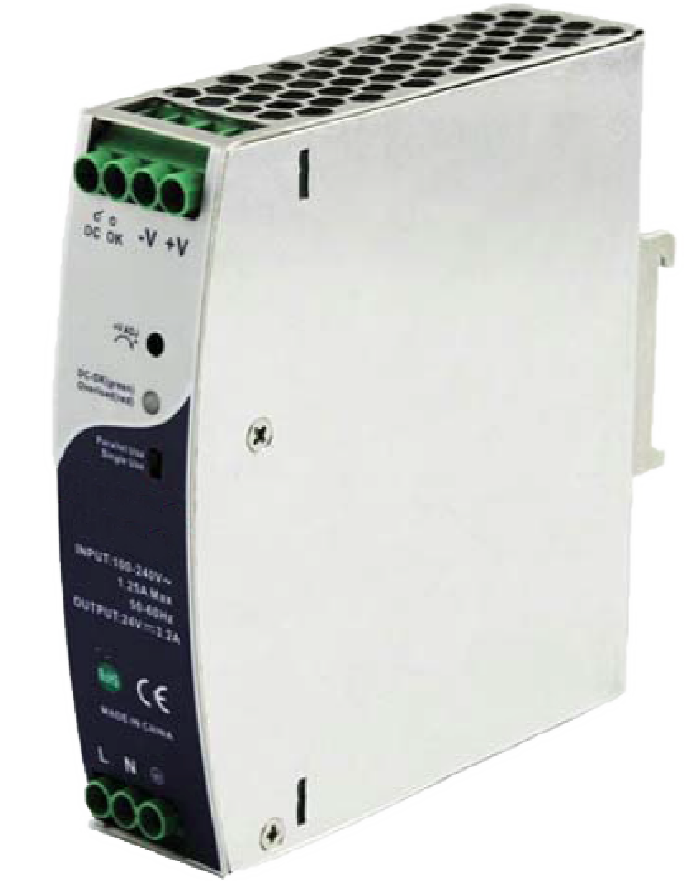 Download Data Sheet
PSDG-75
The PSDG-75 series of AC/DC industrial DIN Rail power supplies offers up to 75 watts of output power in a 4.69" x 1.26" x 4.88" ultra-slim package. This series consists of single output models with a universal AC input range of 85~264VAC. Each model in this series has many built-in features including built-in active PFC, current sharing function, limiting circuit, and DC OK relay contact. This series has high efficiency up to 91% as well as over voltage, over load, short circuit, and over temperature protection. PSDG-75 series meets UL508, UL60950, and EN60950 safety approvals and has been 100% burn-in tested. Please call factory for order details.
• Universal AC Input Range of 85~264VAC
• Supports 1+1 or N+1 Redundant System (Suggested to use redundancy modules)
• Built-In Active PFC
• Built-In Current Sharing Function
• Built-In Current Limiting Circuit
• High Efficiency up to 91%
• 150% Peak Load Capacity
• Can be Installed on TS-35/7.5 or TS-35/15
• Over Voltage, Over Load, Short Circuit, and Over Temperature Protection
• Easy Fuse Tripping to High Overload Current
• Excellent Partial Load Efficiency
• Built-In DC OK Relay Contact
• 100% Full Load Burn-In Test
• Meets UL508, UL60950, and EN60950 Safety Approvals
Model
Number
Input
Voltage
Output
Voltage
Output
Current
Output
Power (W)
No.
Outputs
Case
PSDG-75-12

Input Voltage:

84~264

Output Voltage:

12

Output Current:

6.3A

Output Power (W):

75

No. Outputs:

S

Case:

DIN Rail
Get a Quote
PSDG-75-24

Input Voltage:

84~264

Output Voltage:

24

Output Current:

3.2A

Output Power (W):

75

No. Outputs:

S

Case:

DIN Rail
Get a Quote
Specification
Value
Input
Input Voltage (Nominal):
115/230
Input Voltage Range:
85~264
PFC:
@100VAC: 0.99 @230VAC: 0.95
Input Frequency:
47 to 63Hz
Output
Output Voltage:
12, 24
Voltage Accuracy:
±1.0%
Output Current:
6.3A, 3.2A
Output Power (Watts):
75
Output Trim/Adjustability:
12V Model: 12-14V 24V Model: 24-28V
Short Circuit Protection:
Long Term, Automatic Recovery
Over Voltage Protection:
12V Model: 15-18V 24V Model: 29-33V
Thermal Protection:
Yes
General
Efficiency:
Up to 91%
Environmental
Operating Temperature:
-25 to 70ºC
Storage Temperature:
-40 to 85ºC
Physical
Weight:
26.81oz (760g)
Dimensions:
4.69in x 1.26in x 4.88in
Notes & safety
Notes:
1. Measured at 20MHz of bandwidth by using a 12" twisted pair-wire terminated with a 0.1uF & 10uF parallel capacitor.
2. The SPS is considered a component which will be installed into the final equipment. The equipment must be re-confirmed that it still meets EMC directives.
3. I Division of all the parameters of the test method and measurement standards remain within the scope of the law to allow the final interpretation. If you have any questions, please contact factory.
4. This product is listed to applicable standards and requirements by UL.
*Due to advances in technology, specifications subject to change without notice.
Safety Approvals:
UL508, UL60950, EN60950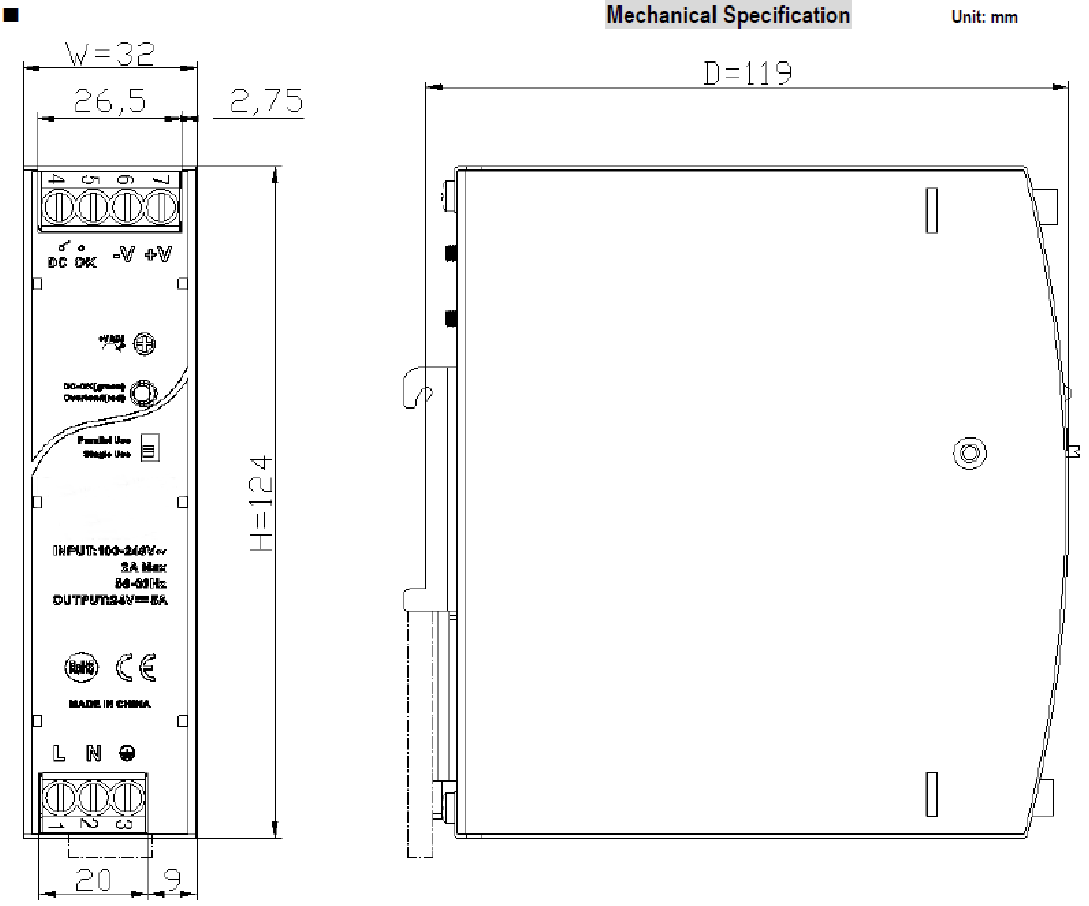 Get a Quote
Request information for from Wall Industries.
Custom Solutions
Wall Industries, Inc. offers fully custom power design capabilities. Our team of electrical and mechanical power design engineers will utilize proven design topologies and concepts to create a solution to your power requirements. If you don't have a specification, Wall's engineering team will assist you in determining what your requirements are and how best to provide a solution.
Learn More