Wall's PSFDN Family Offers Industrial Grade DIN Rail Models Ranging from 120 to 480 Watts
Wall Industries Inc. has released 3 new series to make up the PSFDN family of industrial grade DIN rail AC/DC supplies, including the PSFDN120, PSFDN240, and PSFDN480 series. This new family features single output models ranging from 12-48VDC with a wide input range of 85~264VAC (100~370VDC) that accept AC or DC input with dual use of the same terminal. Output power ranges from 120 watts to 480 watts.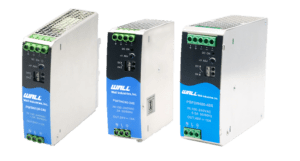 The DIN rail models of the PSFDN family are ultra-slim, offer high efficiency and reliability, and active PFC. Each series is also RoHS compliant and has short circuit, over current, over voltage, and over temperature protection. Safety approvals vary across each series.
Features of each series are as follows:
PSFDN Family
Series Name

Watts
Input Voltage Range
Output Range (VDC)
Temp. Range
Package Dimensions
Weight

Safety Certification

120W
85~264VAC (100-370VDC)
12V, 24V, 48V
-40 to +70°C
4.33" x 1.26" x 4.88"
1.08lb (490g)

UL61010-1, UL61010-2-201 and EN62368-1 (Report)

192-240W
12V, 24V, 48V
4.88" x 1.61" x 4.33"
1.43lbs (650g)

UL61010-1, UL61010-2-201, IS13252 (Part1) & EN62368-1 (Report)

480W
24V, 48V
-30 to +70°C
5.17" x 1.89" x 4.92"
2.16lbs (980g)

IEC/EN/UL62368-1 & UL61010-1
Full series details can be found in the 'Series Name' links above.
We have several Industrial power supplies available. Browse all of them here.