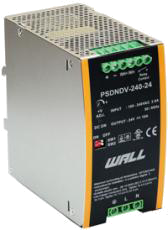 Download Data Sheet
PSDNDV-240
The PSDNDV-240 series of AC/DC DIN rail power supplies provides 240 watts of output power in a 4.63" x 2.59" x 4.92" package. This series consists of 24V and 48V single output models with a universal input range of 88- 264VAC (124-373VDC). Some features include built-in remote ON/OFF function, built-in DC OK relay contact, active PFC > 0.95, and high efficiency up to 92%. This series is also protected against short circuit, over load, over voltage, and over temperature conditions. All models are RoHS compliant and have UL 508 and EN60950-1 safety approvals.
• RoHS Compliant
• 240 Watts Rated Output Power
• 150% Peak Load Capability
• Two Peak Load Mode Selector
• High Efficiency up to 92%
• 4242VDC I/O Isolation
• Built-in Remote ON/OFF Function
• Cooling by Free Air Convection
• Built-in DC OK Relay Contact
• Built-in Active PFC Function, PF > 0.95
• 24V & 48V Single Output Models
• Universal Input Voltage Range: 88-264VAC (124-373VDC)
• Protection: SCP, OLP, OVP, and OTP
• Installed on DIN Rail TS-35/7.5 or TS-35/15
• UL 508 and TUV EN60950-1 Safety Approvals
• 100% Full-Load Burn-in Tested
Model
Number
Input
Voltage
Output
Voltage
Output
Current
Output
Power (W)
No.
Outputs
Case
PSDNDV-240-24

Input Voltage:

88~264

Output Voltage:

24

Output Current:

10A

Output Power (W):

240

No. Outputs:

S

Case:

DIN Rail
Get a Quote
PSDNDV-240-248

Input Voltage:

88~264

Output Voltage:

48

Output Current:

5A

Output Power (W):

240

No. Outputs:

S

Case:

DIN Rail
Get a Quote
Specification
Value
Input
Input Voltage (Nominal):
115/230
Input Voltage Range:
88~264
Remote ON/OFF:
Yes
PFC:
0.96
Input Frequency:
47 - 63Hz
Output
Output Voltage:
24, 48
Voltage Accuracy:
±1%
Output Current:
10A, 5A
Output Power (Watts):
240
Output Trim/Adjustability:
-2.0%, 8.0%
Short Circuit Protection:
Yes
Over Voltage Protection:
Yes
Thermal Protection:
Yes
General
Efficiency:
Up to 92%
Isolation:
Input to output: 4242VDCInput to FG: 2121VDCOutput to FG: 707VDCOutput to DC OK: 707VDC
Environmental
Operating Temperature:
-25 to 70°C
Storage Temperature:
-40 to 85°C
Physical
Weight:
2.0 lbs (900g)
Dimensions:
2.59" x 4.92" x 4.63" (65.80 x 125.0 x 117.7 mm)
Notes & safety
Notes:
1. Ripple & noise is measured at 20MHz limited bandwidth and using a 12" twisted pair-wire terminated with a 0.1µF & 47µF capacitors in parallel.
2. The power supply is considered a component which will be installed into final equipment. The final equipment must be re-confirmed that it still meets EMC directives.
3. Installation clearance: 40mm from top, 20mm from bottom, 5mm from the left and right sides is recommended when permanently loaded with full power. In case the adjacent device is a heat source, 15mm clearance is recommended.
4. For 3 seconds or 20% duty cycle max. The average output power should not exceed the rated power.
5. For voltages near the low end of the input voltage range, see the derating curve for the power supply output rating.
Due to advances in technology, specifications subject to change without notice.
Safety Approvals:
UL 508
RoHS Compliance:
Yes
TUV Efficiency Level:
TUV EN60950-1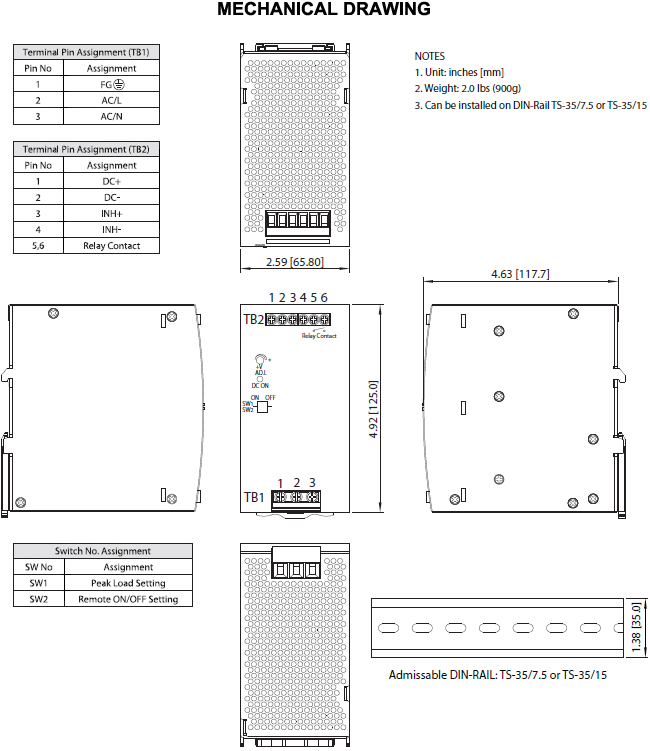 Get a Quote
Request information for from Wall Industries.
Custom Solutions
Wall Industries, Inc. offers fully custom power design capabilities. Our team of electrical and mechanical power design engineers will utilize proven design topologies and concepts to create a solution to your power requirements. If you don't have a specification, Wall's engineering team will assist you in determining what your requirements are and how best to provide a solution.
Learn More