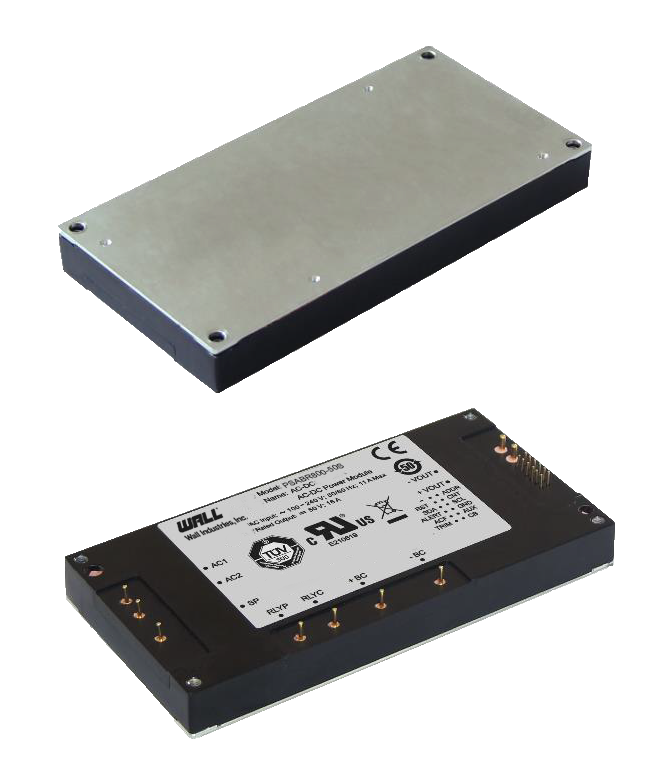 Download Data Sheet
PSABR800-50S
The PSABR800-50S model of AC/DC converters offers 800 watts of output power in a 4.6" x 2.32" x 0.51" full brick package. This is a single output model with an input range of 90-300VAC (190-400VDC). Features of this model include high efficiency, remote on/off, power density, input under and over voltage protection, as well as output over current, over voltage, over temperature, and short circuit protection. This model is UL60950-1, CSA C22.2 No. 60905-1, EN60950-1, and IEC60950-1 and RoHS6 compliant and has TUV, UL, CB, and CE certification. Please contact factory for order details.
• 90-300VAC (190-400VDC) Input Range
• Standard Full Brick Structure
• Low Output Ripple & Noise
• High Efficiency
• Power Density
• PMBus Communication
• RoHS6 Compliant
• Input Under Voltage and Input Over Voltage Protection
• Output Over Current, Over Voltage, Over Temperature, and Short Circuit Protection
• Remote On/Off
• TUV, UL, CB, CE Certification
• UL60950-1, CSA C22.2 No. 60950-1, EN60950-1 and IEC60950-1 Compliant
Model
Number
Input
Voltage
Output
Voltage
Output
Current
Output
Power (W)
No.
Outputs
Case
Size
PSABR800-50S

Input Voltage:

90~300

Output Voltage:

50

Output Current:

16A

Output Power (W):

800

No. Outputs:

S

Case:

Through Hole, PCB Mount

Size:

4.6 x 2.32 x 0.51"
Get a Quote
Specification
Value
Input
Input Voltage (Nominal):
110/220
Input Voltage Range:
90~300
PFC:
0.99 typ.
Input Frequency:
45 to 66Hz
Output
Output Voltage:
50
Output Current:
16A
Output Power (Watts):
800
Short Circuit Protection:
Self-Recovery
Over Voltage Protection:
58-60V
Thermal Protection:
Internal Temperature: 100ºC Hysteresis: 5ºC
General
Efficiency:
Up to 93%
Environmental
Operating Temperature:
-40 to 100ºC
Storage Temperature:
-40 to 85ºC
Physical
Weight:
9.7oz (275g)
Dimensions:
4.6 x 2.32 x 0.51in (116.8 x 59 x 2.9mm)
Notes & safety
Notes:
1. Output Power (peak): 950W, 7.5ms, duty cycle 0.75
2. Oscilloscope bandwidth: 20MHz
TC < -25ºC, twice the recommended output capacitance is needed.
3. If output undershoot ΔV > 1.5V, output response recovery time Δt ends when ΔV ≤ 1%Vout
4. From an altitude of 1800m, temperature decreases by 1ºC for every 220m increase in altitude
5. This product is Listed to applicable standards and requirements by UL.
*Due to advances in technology, specifications subject to change without notice.
Safety Approvals:
UL60950-1, CSA C 22.2 No. 60950-1, EN60950-1, IEC 60950-1
RoHS Compliance:
RoHS6
TUV Efficiency Level:
TUV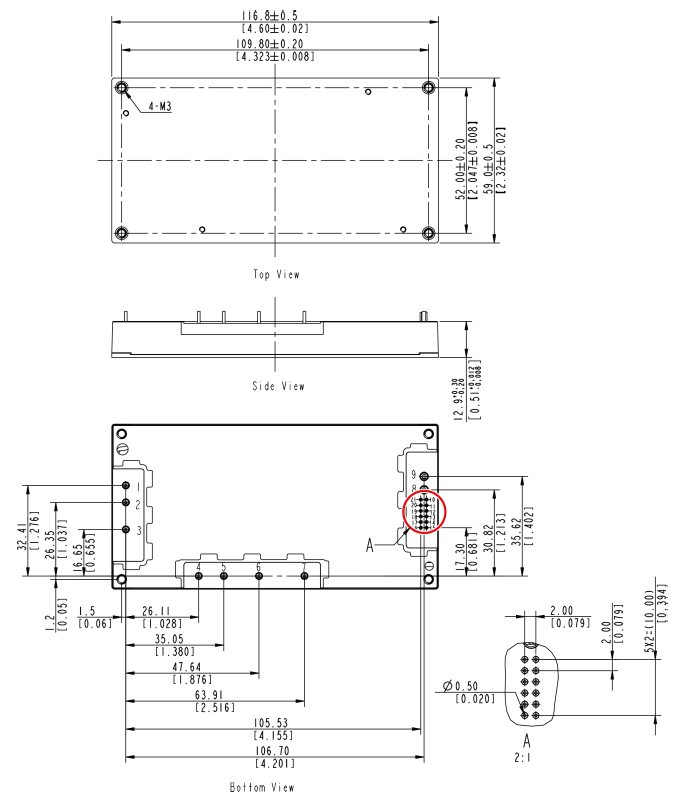 Get a Quote
Request information for from Wall Industries.
Custom Solutions
Wall Industries, Inc. offers fully custom power design capabilities. Our team of electrical and mechanical power design engineers will utilize proven design topologies and concepts to create a solution to your power requirements. If you don't have a specification, Wall's engineering team will assist you in determining what your requirements are and how best to provide a solution.
Learn More